Siberia has been always famous for its long and frosty winters. When thinking about winter, associations known from childhood immediately appear in one's mind: the boundless snow plains, Russian troika rides, never ending frosts. In contradiction with what most people imagine, winter is not the desolated wasteland at Baikal. Nature is not dead, it is just sleeping ! Winter is, after all, the most Russian of seasons, a time of fur coats, sleigh-rides and chilled vodka. Even in coldest months of December - January city life goes on, on the nice days people enjoy outdoor activities and winter sports. Most of the winter, it is about -15, -17 &degC during a day, which is OK to be out if you have proper clothes for subzero temperature. Usually the layer of snow out in the plains and forests is 50 cm to 1.5 meter, though in the mountains it may reach 2 - 3 meters.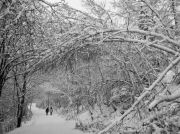 That mono-colored world somehow strikes one's imagination: the endless acres of snow, the tracks going seemingly nowhere, the groups of bare birches, the delicate reeds and huge frozen rivers and lakes.

The best time to come is from mid February till mid April, when the day temperature rise from -10 to +2 &degC, weather is sunny and calm. Days are longer, there is still a lot of snow for skiing, lake is still frozen to skate on. You can drive a 4WD van on the Baikal ice to the beautiful remote area and be the only visitor there.

"BAIKALCOMPLEX" offers the following popular WINTER TOURS:


---

- BAIKAL WILD ICE GRAND MARATHON

- THE OLD RAIL ROAD TOUR

- WINTER JEEP TOUR TO OLKHON ISLAND

- HIKE TO BOLSHIE KOTY

- DOG SLEDDING & BAIKAL EXCURSION

- SKATING AT BAIKAL

- CROSS-COUNTRY SKIING IN SIBERIA FOREST

- BACK-COUNTRY SKIING IN KHAMAR-DABAN MOUNTAINS

- BAIKAL SKIING MARATHON, 50 KM


- BAIKALSKIY MARATHON 42. 195 M

- INTERNATIONAL LAKE BAIKAL ICE MARATHON

- CROSS-COUNTRY SKIING SUPER MARATHON, 90 KM

- BAIKAL NORDIC SKATE GRAND MARATHON, 205 KM