ONE DAY CIRCUMBAIKAL RAILROAD TOUR

---
by modern tourists train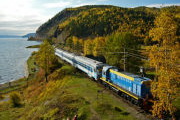 Modern tourists train: SEASON: all year round on SAT Irkutsk - Sludyanka - Port Baikal; on SUN Port Baikal - Sludyanka - Irkutsk. Mid June-early September - on WED from Irkutsk - Sludyanka - Port Baikal; on THU Port Baikal - Sludyanka - Irkutsk.
From 1 client to groups variable in size. Any age.

Description:
Tour starts by modern train on Saturday from Irkutsk eastbound to Sludyanka and then to Port Baikal, where tourists take ferry to Listvyanka and transfer to Irkutsk. On Sunday the trip goes the other way from Irkutsk transfer to Listvyanka by bus, ferry and at 11.30 am boarding on the ORR modern train to go to Sludyanka and late evening to Irkutsk. The famous Circum Baikal Railroad going along the south-western shore of Lake Baikal is one of the most complicated railways in the world. The total length of its 39 tunnels is 7 km. The whole road is 86 km long. You can take photos of Lake Baikal, ORR tunnels, bridges and railway stations. Lunch included. Itinerary: Early morning transfer to Irkutsk Railway station. At 8.05 am the special tourists train on the Trans-Siberian Railway from Irkutsk to Lake Baikal, town of Sludyanka, train along the Old Railroad to Port Baikal, Ferry or private boat to Listvyanka, transfer to Irkutsk.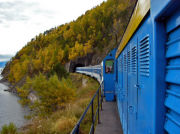 NOTE: the clients can also stay in Listvyanka (instead of return to Irkutsk), we can organize transfer to hotel/homestay and accommodation in Listvyanka. Or in reverse: Transfer from Irkutsk to harbor to Listvayanka by public bus. Ferry from Listvyanka to Port Baikal. At 11.40 departure by special tourist train along the Old Railroad to Sludyanka, with many stops, than train goes to Irkutsk on the Trans-Siberian Railway. Packet lunch is included. Arrival to Irkutsk at 21.38. Transfer to hotel/homestay in Irkutsk. Note: The clients can start this tour from Listvyanka, if they had an accommodation in Listvyanka before.

The Circum-Baikal Railroad 100 years' anniversary