"A great budget agency is "Baikal-Complex!"
Bryn Thomas "Trans-Siberian Handbook", 1997, page 222
TRANS-SIBERIAN TRAVEL


---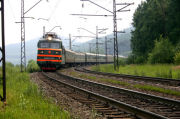 Trans-Siberian Railway crosses the entire length of Russia from Moscow via Siberia to the Pacific terminus at Vladivostok. There can be few people who have not, at some time in their lives, wondered what it must be like to travel on the Trans-Sib, the world's longest railway journey.
"Baikalcomplex" is one of the most experienced Russian Trans-Siberian & BAM Railroad tour operators. We are the only Russian travel company, which organizes accommodation in hotels and homestays in all major cities along the Trans-Siberian and BAM. We offer visa support, transfer, accommodation, excursions and ticketing service for our clients in Vladivostok, Khabarovsk, Chita, Severobaikalsk, Ulan Ude, Irkutsk, Krasnoyarsk, Novosibirsk, Omsk, Tomsk, Ekaterinburg, Perm, Moscow, St.Petersburg, Yakutsk etc. In our hometown Irkutsk we offer variety of accommodation from 4-star hotels to homestays, transfers in the city and to Lake Baikal, excursions, cultural programs, tours to shaman, Russian language courses and Adventure Tours. Accommodation at different settlements at Lake Baikal: Listvyanka, Bolshie Koty, Port Baikal, Olkhon Island etc.
We can design trips based on a tourist's schedule, travel style and interests. From solo student on a limited budget to First Class and Deluxe groups, we emphasize personalized approach in all of our tours.
"BAIKALCOMPLEX" offers the following popular RAILWAY TOURS:



TRANS-SIBERIAN MOSCOW-IRKUTSK-VLADIVOSTOK 9259 km

TRANS-MONGOLIAN MOSCOW (St. PETERSBURG) - IRKUTSK - ULAAN-BAATAR - BEIJING 7855 km

TRANS-SIBERIAN VLADIVOSTOK - IRKUTSK - MOSCOW (St. PETERSBURG) 9909 km