SHORT TOUR SKATING AT LAKE BAIKAL

---
4 Days/3 Nights
Early February till the late March.
Tourists must have very warm clothes, including windstoper.
Description: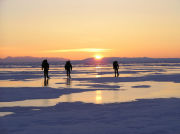 A beautiful short skating tour can be done at Baikal in two days (adventure part).
The section of Baikal from Bolshoe Goloustnoe to Bolshie Koty is often clear ice, to let you experience magic feeling of speed skating at the world's biggest skating ring. Sometimes right after a snowfall the ice may be covered with a some snow, so be ready to walk some kilometers. At first day tourists stay in the city of Irkutsk.
On the second day tourists are transferred to settlement Bolshoe Goloustnoe. At this day tourists skate to Bolshie Koty, 30 km, overnight in family or guesthouse.
Third day tourists skate or partly walk from B. Koty to Listvyanka, 20km, take a transfer to Irkutsk or overnight in Listvyanka and have full day sightseeing with visiting Lake Baikal Museum.
Itinerary:
Day 1: Arrival to Irkutsk. Transfer to HTL Irkutsk./ homestay HTL Irkutsk / homestay, 1 Nt, twin, b/b
Day 2: Drive to Bolshoe Goloustnoe, start of skating / walking . Skate to village Bolshie Koty 30 km. Accommodation in family or chalet.
Day 3: Skate / walk to Listvyanka 20 km,. TRSF to Irkutsk. HTL Irkutsk / homestay, 1 Nt, twin, b/b
Day 4: Departure from Irkutsk