WINTER JEEP TOUR TO OLKHON ISLAND - 6 Days/ 5 Nights


---
February 1st till March 31st.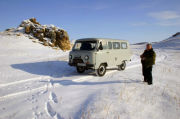 Tourists will get into the magic ice kingdom of Lake Baikal. If you've never seen it you wouldn't imagine such vast expanse covered with a meter thick crystal armor. Transparent as if you walk on water, ice sometimes is smooth as a mirror, sometimes risen up like gothic castles, it catches you up in blue labyrinths. You'll try skating on the ice of the biggest sweet water lake on earth, check your fortune in ice-fishing and try, traditional Russian sauna. You'll visit the most interesting and beautiful areas of Lake Baikal and make walking tours along the shore and into the taiga-forest.
Note: 1. The road to Olkhon (totally 300 km) is partly a bumpy dirt road going up and down snowed hills (50 km), so the whole drive takes about 6 hours with the lunch stop in a little cafe.
2. Other 4WD-offroad car tours in different areas in the vicinity of Lake Baikal, the East Sayan Mountains, the Lena River region, in the Altay mountains and in other area of Russia can be arranged .
OLKHON ISLAND brief information:
Olkhon is the largest island at Lake Baikal. It is 71 km long and 15-25 km wide. Olkhon is the most beautiful and mysterious place at the lake. The climate and landscape here are different from the rest of the lake. Average temperature in Summer is 20 - 23C above zero, many sunny days, rains are seldom. In winter there is not much snow, windy, temperature is about -20C. Nature of Olkhon is outstandingly various: there are gorgeous sandy beaches, spacious steppe hills, dramatic capes, pine-tree forests and picturesque rocks, beautifully coloured with yellow, red, orange lichens. The island's dry southern end is rolling grassland - great for off-road mountain bike. This transform in the mid part into thick woodland and at the northern tip there's a fair chance of spotting freshwater seals. The channel between the island and the mainland is called Maloe More, it is one of the few places at Baikal where water in summer is warm enough for swimming.
The Island is famous as the centre of Shamanism, the common religion of the indigenous peoples of Siberia - Buryats. Many of the shamans sacred places and rock paintings are still found here. The biggest settlement of Olkhon is the fishing village of Khuzhir with population of about 2.000 people .
Itinerary and description:
Day 1: Arrival in Irkutsk, arrival transfer to hotel / homestay, 3 hours walking city tour with one museum.
Day 2: Driving to Maloe More (Small Sea). Accommodation in hostel in Khuzhir village. Sightseeing around. Sauna
Day 3-4: Driving around Olkhon Island. Exploring Baikal ice, skating, ice-fishing.
Day 5: Driving back to Irkutsk via settlements Elanzy, Ust-Orda (mainly along modern highway). Accommodation in Irkutsk.
Day 6: Transfer to station / airport. Departure from Irkutsk.