BAIKAL CHALET


---
"Baikalcomplex" owns a home like hotel called "Baikal Chalet". It consists of two cozy wooden lodges: "Listvyanka Chalet" in Listvyanka settlement (two houses).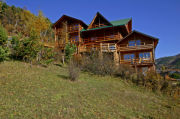 "LISTVYANKA CHALET" is built of pine tree logs in the traditional Russian style. It is situated in the middle of the valley surrounded by houses of local people. A spectacular view of the Lake Baikal's blue mirror opens up from windows of the lodge. Lovely heels with bush forest starts beyond our garden. It's a great place to admire the outstanding nature of the lake feeling real Russian countryside atmosphere. Listvyanka old-style Siberian village, situated at the source of the Angara River, is famous for its trade history. From the 18th century a ferry took merchants across the lake on their way to Mongolia, China and the Far East. Village with a tourist-oriented market, picnic areas and a plethora of hotels and cafes has several beautiful viewpoints, old wooden church and an interesting museum.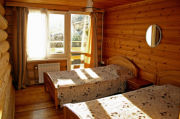 Open all year around, there are thirteen comfortable twin rooms with WC, bathroom, hot and cold water. Breakfast is included and on your wish traditional Siberian lunch and dinner, with Baikal omul fish, are served. The harbor, bus station, cafe, souvenir shop, restaurants and pub are in 10 minutes walk from the chalet. The friendly staff will support you with tourist information and help to organize your activity around Listvyanka. You can also look through or buy maps and post cards.
Good discounts from October to April. Enjoy our hospitality and you always welcomed !
Address : 75 Gudina str. First street left from the harbor, 750-800 m up valley from Baikal
"BaikalComplex" also offers homestay in lodges in Bolshie Koty, Olkhon island, Bolhsoe Goloustnoe, Ust-Barguzin, Port Baikal, Severobaikalsk, other Baikal towns.