HIKING \ WILD SKATING FROM LISTVYANKA TO BOLSHIE KOTY, 2 Days / 1 Night


---
Available From February 1st till April 5-10th.
Distance: about 32 km. Age: up to 55. Difficulty: Moderate.
It is essential to have warm boots, wind stopper clothes, goggles.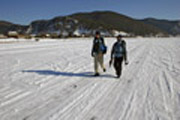 Every winter Lake Baikal freezes over in the second fortnight of January. Russians enjoy the range of outdoor activities on the surface of the frozen sea, such as dog sledding, hiking, skating, skiing, riding skidoo or driving 4WD vehicle. In a sunny day walking on the lake is a great fun indeed, superb visibility to the other side of the lake, forth and backward for hundred kilometers, smooth and transparent ice, internal quietness. From the beginning of February till the beginning of April the unique challenge of Baikal ice hiking / wild skating can be done in 2 days from Listvyanka to Bolshie Koty village. The trail sometimes comes close to the shore, sometimes take a long zigzag to the sea.
In the morning tourists are transferred from Irkutsk to the Lake Baikal, 65 km. The breathtaking hike is started in Listvyanka, one of the oldest Russian settlement on the lake, nowadays - the popular tourist destination with developed infrastructure. Trail leads 16 km northward along the southwestern shore and finally comes to the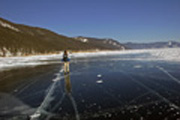 small, former gold mining Bolshie Koty village . With the population of about 60 people, this magnificent place is so quiet in winter, that one immediately feels "on the edge of the world", away from culture and civilization. Overnight in log made boutique hotel "Koty Chalet". In the night the traditional Russian winter fun - banya, with hot steam and birch brooms is followed by the Baikal dinner. Next day walk around Koty villager, hike back to Listvyanka and departure to Irkutsk.