ACCOMMODATION HOTELS & HOMESTAYS IN IRKUTSK AND AT LAKE BAIKAL


---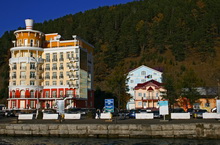 "Baikalcomplex" offers variety of accommodation from suites in 5* hotels to budget youth hostels, homestay, chalet, lodge at lake Baikal and in most of the cities along the Trans-Siberian and BAM railways.
We provide transfer, accommodation and ticketing service for you in Vladivostok, Khabarovsk, Blagoveschensk, Chita, Ulan Ude, Irkutsk, Tayshet, Krasnoyarsk, Abakan, Kyzil, Novosibirsk, Omsk, Tomsk, Tyumen, Ekaterinburg, Perm, Nizhny Novgorod, Moscow, St.Petersburg, Yakutsk, Severobaikalsk, Tynda, Komsomolsk, Beijing, Ulaan-Baatar, etc.
"Baikal-Complex" owns the boutique hotel called "Baikal Chalet". It consists of two cozy wooden lodges: "Listvyanka Chalet" in Listvyanka settlement (two houses), and brand new "Koty Chalet" in Bolshie Koty village, both near the shore of Lake Baikal.
In our hometown Irkutsk we offer accommodation in hotels and homestays in the downtown, transfers in the city and to Lake Baikal, excursions, cultural programs, Russian language courses, tours to shaman and Adventure tours. Accommodation at Lake Baikal: in settlements Listvyanka, Bolshie Koty, Port Baikal, Olkhon Island, Khuzir, Ust-Barguzin, Severobaikalsk, etc.
INFORMATION ABOUT IRKUTSK HOTELS.
The hotels located in the downtown: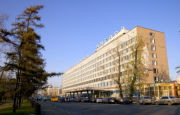 "Angara" Hotel
The "Angara" Hotel is located in the main square. It is 7-storey building with rooms of 2 Categories: 3+-stars (5-7 Floors) and 2 - 2+ stars (2-4 Floors). Address: Sukhe-Batora str., 7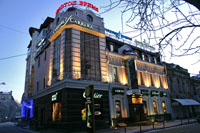 "Victory" Hotel
Built in 2007 the Vicroty hotel is located in the very center of the downtown, right near the main street. Nice rooms, good service and reasonable prices make it the most popular 3 star hotel in the city. Trendy restaurant serves Russian and French cuisine. Address: Bogdana Khmelnickogo str. #1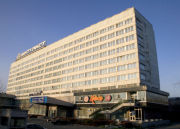 "Irkutsk" Hotel (old name: Intourist)
The 6-storey building of 3-stars "Irkutsk" Hotel is situated on the east bank of the Angara River. It is within walking distance of the centre. Address: Gagarina blvd, 44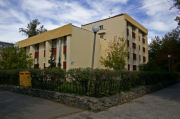 "Rus" Hotel
2-stars hotel is located in a quiet cozy street within 5-minute walking distance from the central square of town. It has 15 twin and 38 single rooms only. It is the hotel of Regional Administration therefore overbooking is possible. Address: Sverdlova str., 19.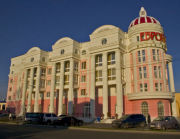 "Europe" Hotel
The new 6 storey hotel, 3-stars, modern design, good restraint and friendly service. 5 minutes walk from the main market of Irkutsk. Adress: 69, Baikalskaya St., phone: 29-15-15.




4-Stars Hotels:
There are only two 4-stars hotels in Irkutsk located close to each other and in 20 minutes from downtown by car, not far from the Airport and Sibexpocentre International Fair & Exhibitions Complex (where all large-scale international exhibitions take place).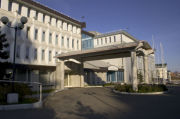 "Sun-Hotel"
The top-level accommodation in Irkutsk now. 15 minutes driving from the center, 4 - 4+ stars. Address: Baikalskaya str., 295B.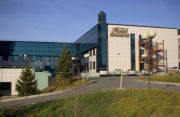 "Baikal Business Centre" Hotel
3 Floors, no elevator. Located in green and picturesque area, not far from the "Sun-Hotel". Address: Baikalskaya str., 279.




Budget Hotels for young travelers (breakfast is not included):

Good and not expensive restaurant is available from 8:00 a.m.
"Profsoyuznaya" Hotel
Located quite close to the hydrofoil terminal, 20-25 minutes by bus from the downtown. Twin rooms only. It's recommended only for summer accommodation. Address: Baikalskaya str., 263.