ADVENTURE TOUR TO LAKE BAIKAL and IRKUTSK
---
Listvyanka - Bolshie Koty
4 Days/3 Nights
BESTSELLER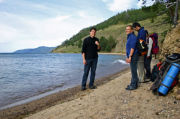 Distance to hike from Listvyanka to Bolshie Koty is about 20 km.
From June 1st till September 20. Public hydrofoil operates daily (Day 4) from June 25 till August 26. From 1 client up to groups variable in size. Ages up to 45-50.
Note: It is possible to rent a private boat to cover the most difficult part of the trail (USD 120).

Both villages, Listvyanka and Bolshie Koty are located at the shore of Lake Baikal, 20 km from each other. Nevertheless they differ a lot: Listvyanka is one of the mostly visited places on the lake with cafes, hotels, tourist attractions; Bolshie Koty - crime free, with health microclimate, it is ideal against stress, for getting in shape and rest from the city noise and traffic. This guided soft adventure tour offers a good combination of sightseeing in famous Listvyanka and trekking to a peaceful remote area of Bolshie Koty.
Itinerary and description:
Day 1: Arrival in Irkutsk at about 09:00 am, transfer to Listvyanka. Accommodation in Listyanka, at a hotel/homestay/chalet, 1 Nt.Visit to Museum of Lake Baikal. Foot s/s in Listvyanka. Overnight at a hotel/ homestay in Listvyanka.
Day 2: Trekking from Listvyanka to Bolshie Koty is 20 km. Normally, trek takes about 6-7 hours with a lunch break. Most of the tourist's luggage is kept in Listvyanka. A tourist needs to carry a rucksack with personal staff required only for this hiking. Overnight in a family in Boshie Koty.
Day 3: Walking in Bolshie Koty. Transfer from B.Koty to Irkutsk by hydrofoil Raketa. Overnight in Irkutsk at Hotel/homestay, 1 Nt, b/b.
Day 5: Breakfast. Transfer to railway station/airport.