MOUNTAIN BIKING AT OLKHON

---
7 Days / 6 Nights
with jeep escort
From 1 up to 4 clients. Up to 55 years.
From the middle May till late September.
Note: Cyclists are full time escorted by a 4WD car and are free of luggage and camping outfit. It is always possible to take a lift if tired or to hop quickly to the next remarkable section and continue cycling there.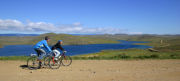 Olkhon Island is an ideal place for cycling. The island's dry southern end is rolling grassland - great for off-road mountain bike. A number of quiet dirt roads lead to scenic view points, lonely bays and beaches. Nature of Olkhon is outstandingly various: there are hidden tiny lakes, spacious steppe hills, dramatic capes, pine-tree forests and picturesque rocks, beautifully coloured with yellow, red, orange lichens, seaside-like sandy beaches. Cycling unburdened makes you feeling as close to nature as one can be and let you visit the most solitary, pictorious parts of the island. Place is made for moutain biking and becomes more and more popular as a mtb destination.
Besides, one can also make walks along the shore and into the taiga-forest.

Driving by 4WD vehicle (such as used in the Russian army) to Aya Bay, where cycling is started. Next day tourists cross the strait by ferry and explore Olkhon. It is truly the heart of the lake that gives you a perfect chance to experience the magnificent beauty of the Baikal, see the life style of native Buryat people and admire the famous Olkhon sunsets. After two days on the island tourists get back to the mainland and continue cycling up north. In the morning of the last day of the tour bikes are set in the car and tourists are transferred to Irkutsk.
Itinerary and description:
Day 1: Arrival in Irkutsk, transfer to hotel / homestay, 1 Nt b/b, 3-hour walking city tour with one museum.
Day 2: Driving by jeep to region of Aya Bay and Maloe More (Small Sea) about 250 km. Start of cycling northward along the main land. Overnight in tent., F/b
Day 3-4: Ferry to Olkhon Island, mountain biking at Olkhon. Overnight in tent F/b
Day 5: Back on mainland. Cycling up northward along the shore of Small Sea. Overnight in tent.
Day 6: Driving back by jeep to Irkutsk via settlements Elanzy, Ust-Orda (mainly along modern highway) Breakfast, lunch included. Accommodation in Irkutsk, 1 Nt b/b hotel/homestay
Day 7: Transfer to station / airport. Departure from Irkutsk.