DOG SLEDDING & BAIKAL EXCURSION - 1 DAY

---
From mid December till early April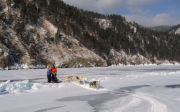 All transfers by private car, English/German/Japanese/Italian/Spanish speaking guide, visit to the Museum of Lake Baikal (Limnological Museum) or the Museum of Wooden Architecture (entrance ticket to one museum is included), the viewpoint over the source of the Angara River, walk to St. Nicholas church, Dog Sledding. Departure from hotel/homestay: 9:30 am. Back to Irkutsk at 5:00 - 6:00 p.m. Duration of the tour is 8-9 hr.
Note: When taking a dog sled ride, there is a possibility to share a lap among tourists, e.g. the lap of 10 km can be started by one tourist and after 5 km ride a shift with another person may be done, so 2-3 tourists can try dog sledding one after another during 10 km ride. It is also possible to arrange a ride longer then 10 km.
The highway from Irkutsk to Lake Baikal goes through a picturesque taiga-forest up and down the high hills. After 1 hour drive you come to a viewpoint facing the Shaman Rock, at the source of the Angara River. The small but tourist-wise village of Listvyanka is located on the western shore of Lake Baikal, 70 km from Irkutsk. This old-style Siberian village is famous for its trade history. From the 18th century its ferry took merchants across the lake to Mongolia and China and the Far East. The Museum of Lake Baikal (Limnological Museum) provides information about the origin and wild life of the lake. A video film gives you the opportunity to see the deepest point of the lake's bottom (1.637 m) from the submarine board. Lake Baikal is frozen over from late January to early May, the thickness of the ice near Listvyanka can be 70-80 cm. The part of the lake near the source of the Angara River is the only natural water place in Siberia, which never freezes over.
After Listvyanka settlement sightseeing tourists get to a dog open-air cage to see how the harness is put on dogs, listen to the brief instructions and explanations from the guide. Breath-taking excitement creeps you up when a team of Russian racing huskies, brought from Kamchatka peninsula, lead you along the forest trail. Controlling the wooden sledge at the sharp turns, enjoying the speed one has incomparable feeling of unity with nature.
Experienced guide-instructor will escort your trip with a ski-doo.