ONE DAY TOUR TO SHAMAN
---

All year round. From 1 client up to groups variable in size.
All transfers by private car, English/German/Japanese/Spanish/Italian/French speaking guide, one museum.
Departure from hotel/homestay: 9:30 am.
Coming back to Irkutsk at 3 - 4 pm.
Duration of the tour is 6,5 hours.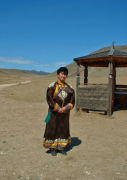 We offer a new ethnographical tour at Lake Baikal area, an exiting visit to the region where the Shamanism is still practiced. It is the brilliant way to experience the Buryat people traditional hospitality and cuisine, to enjoy their dancing and music. You are invited to take part in the original ceremony of "meeting-and-greeting" guests at Buryat dwelling, view the folk arts, make offerings to the local spirits, so you feel yourself like a medieval nomad.

Description: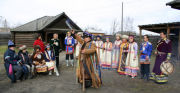 By our company's car, tourists and a guide come to settlement Ust-Orda, the administrative and cultural center of Ust-Orda Buryat National Region, situated 70 km from Irkutsk. Its population is about 10.000 people, mostly involved in herding cows and sheep in the vast Mongolian-like steppe. In Ust-Orda, the local guide meets the guests and takes them to an excursion in the Local Lore Museum, showing the history of Siberia from the Stone Age to the present day in fossils, rock-painting, pictures, authentic tools, robes and dresses, weapons and jewelry.
After dressing in Buryat traditional clothes, the tourists are invited into a yurt. Before getting in, the major Shaman accomplishes the procedure of cleaning the guests from possible evil spirits and gives them further protection. Inside the yurt, everybody sitting around the fire tastes the Buryat tea, followed by oriental dishes typical of this region. To get to know what happens later come to see it!!