CANOEING TOUR ALONG LAKE BAIKAL SHORE
---
5 Days/ 4 Nights
From early June till late August.
From 1 up to 6 clients. Any age. Moderate.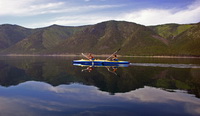 Tour starts in village Bolshoe Goloustnoe, pass Bolshie Koty to end up in Listvyanka settlement. Allthough the 3 villages are not too far from each other, their history and character differ a lot. Listvyanka, the popular tourist destination with developed infrastructure, the quiet and small Koty village, spread out fisherman Goloustnoe settlement. The canoe trip from Listyanka to Bolshoe Goloustnoe is one of the most comprehensive, naturalistic and beautiful adventures available to tourists in the relatively short time in Baikal region. The flat surface of the biggest lake looks so vast and unreal that one can hardly imagine it.
Itinerary and description:
Day 1: Arrival in Irkutsk, transfer to hotel/homestay, 1 Nt, b/b. 3-hour guided walking city tour of Irkutsk, one museum. / 3-hour guided walking city tour which includes the city's highlights and a visit to the Regional Museum.
Day 2: Morning transfer by private car to B.Goloustnoe, 135 km from Irkutsk. The start of the canoe trip to Cape Kadilny, 15 km from B.Goloustnoe. Overnight in tents, f/b.
Day 3: Sightseeing around the Kadilny cape. Then sea kayaking along the shore to village Bolshie Koty (15 km). Gold used to be extracted from there about 40 years ago. Overnight tents/hostel, f/b.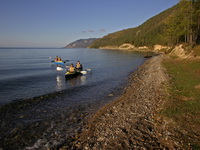 Day 4: Walking around village Bolshie Koty with a guide. Mid day or evening transfer by hydrofoil to Irkutsk. Teransfer to Hotel \ Homestay.
Day 5: Free time. Transfer to station/airport, departure from Irkutsk.