BIKING TOUR ALONG SOUTHERN SHORE OF LAKE BAIKAL
---
5 Days/ 4 Nights
From mid-May till late September.
From 1 up to 5 clients. Any age.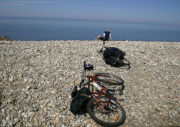 The best time is from early June till early September. The total bicycling distance is 120 km (about 40 km a day), nights in hostels or in tents. Good quality asphalt road, slanting low hills, so the whole route is easy to cycle. When passing through railway stations, tired riders can always get a lift by local trains, which are quite frequent. The route can be supplemented by one/ two-day challenging trip into the valleys of the Hamar-Daban mountain range, at the tourists' request.
Description:
Tourists get a local train from Irkutsk to town Sludyanka located at the southern extremity of Lake Baikal. In the afternoon the group starts riding towards Ulan Ude. On the way riders will pass two marble quarries, small warm water lakes near the Snezhnaya (Snow) River, beautiful mountain streams, thick Siberian taiga-forest, solitary beaches of Lake Baikal and many other natural attractions. In the evening of Day 4 the group takes the suburban train to Irkutsk. Arrival in Irkutsk the on same night. Another option is one day cycling along the Old Baikal Railroad.
Itinerary:
Day 1: Arrival in Irkutsk, transfer to hotel/homestay, 1 Nt, b/b. 3-hour guided walking city tour, one museum.
Day 2: Early morning departure from Irkutsk by suburban train to town Sludyanka, located on the shore of the southern Lake Baikal. Start of bicycling. Overnight in a tent / hostel
Day 3: Bicycling along the south-eastern shore of Lake Baikal. Accommodation tent / family-run pension.
Day 4: Bicycling north, along main road. In the afternoon suburban train back to Irkutsk. Hotel/homestay, 1Nt b/b.
Day 5: Transfer to airport/station. Departure from Irkutsk.