JEEP TOUR TO ORLICK, WESTERN BURYATIA
"The LOST WORLD"


---
9 Days/ 8 Nights
SEASON: 1st of June till 15th Septrmber.
From 1 up to 4 clients. Any age.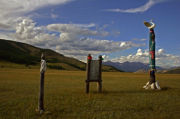 The East Sayan Mountains is relatively young, rocky mountain system covering vast territory from Altay Mountains throughout Tuva Republic to Russia-Mongolian frontier and Lake Baikal. The heart of these land - Oka valley, hidden in the center of Sayan Mountains, is separated from the nearest railway station with more then 400 km of taiga forest, swift rivers, high mountain passes. Thirty years ago the Oka valley was virtually untouched, so Russian geographers and geologists had to organize a charter biplane flights or a long horse trip to get there. But the fame of that outstandingly beautiful country with people and culture survived through centuries excited the adventure seekers.
A dirt road, built at 15 years ago, opened the access to the region. Now a western part of Buryat Republic with the center in Orlick settlement (490 km from Irkutsk) is getting very popular among Russian and foreign outdoor enthusiasts. Many natural attractions keep high interest to this magnificent land. Trekkers come to enjoy the uninhabited mountain valleys and extinct volcanoes, relax at thermal baths, climb unknown summits, white-water fans appreciate tough rapids of Oka river combined with picturesque views and good fishing. Horseback riders, fishermen, bikers are developing new routes around Orlick.
We offer 6 days jeep tour to Oka valley. The first day tourists spend near Lake Baikal, having lunch at the coast of the world's deepest lake, in the afternoon they come to Arshan spa, situated at the foot of Sayans.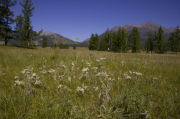 Beautiful views, clean air, number of mineral springs made Arshan an interesting place to visit. Next morning jeep drives up the Tunka to the vast Okinskoe Plateau, called a small Tibet, and further to Dab Khag, (1600m over the sea level). You'll see the Oka, which starts from the lake as a tiny small spring and turns to a great river. Dab Khag is a small buryat farm, where a family of peasants and hunters lives. Tourists are meet-and-greet in the house according to the traditions of nomads. Next morning a day horse trip to ancient volcano lava fields in the wide valley of Oka is done. True hikers can also climb a mountain to observe the whole valley. On the other day jeep takes a group 15-20 km up the Oka River, where the dingey is pumped and a short rafting is started. On rafting tourist can enjoy beautiful views of Oka and Sayan Mountains from the water and try fishing for grayling, pull and other Siberian fish. In the evening, sauna is followed by traditional Buryat family dinner. One of the most impressive experiences is a touch to distinctive culture of Buryats, descendants of the great Genghis Khan.
For the tour we provide chauffeured Russian 4WD van, expert guide, camping and fishing outfit, a dingey. All meals are included, overnights in tent or hostels.
Itinerary:
Day 1:
Arrival in Irkutsk in the morning (about at 08:00 - 09:00 am), arrival transfer to hotel / homestay
(1 Nt, b/b), 3 hours walking city tour with one museum.
Day 2:
Driving to Southern part of the Lake Baikal, lunch at the coast, starting up the Tunka valley to Arshan resort. Sightseeing around Arshan, visit to Buddhist temple, natural thermal springs. Overnight in family.
Day 3:
Driving to Okinsky pass (1900m) and down the Oka to Orlick. Overnight in Buryat family.
Day 4-6:
Sightseeing around Orlick, a day horse back riding, fishing in Oka, hiking, meeting with native people
Day 7:
Start drive back Irkutsk. Overnight in tent or family (about 250 km from Irkutsk).
Day 8:
Back to Irkutsk half day (Lunch including, no dinner). Accommodation in hotel/homestay 1 Nt b/b.
Day 9:
Transfer to station / airport. Departure from Irkutsk.