TREKKING ALONG THE BAIKAL'S SHORE
---
LISTVYANKA - BOLSHIE KOTY - BOLSHOE GOLOUSTNOE
3 Days/ 2 Nights
SEASON for trekking from May 10 till October 20.
From 1 client up to groups variable in size. Ages up to 50-55. Difficulty - STRENUOUS.
During the trek clients share outfit and food with the guide and carry the backpacks of about 12-14 kg .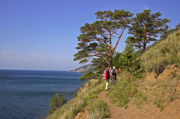 Listvyanka, Bolshie Koty and Bolshoe Goloustnoe are located on the southwestern shore of Lake Baikal. In spite 3 villages are not too far from each other, their history and character differs a lot. The trail from Listvyanka to Bolshoe Goloustnoe is one of the most comprehensive, naturalistic and beautiful trip possible in relatively short time of three to five days to spend at Baikal. The trail always gets along the lakeside in the larch and pine tree forest, through the steppe slopes, pebble beaches, and green meadows with gorgeous view to the turquoise-blue immensity of the great lake.
The tourist-wise Listvyanka settlement is 70 km away from Irkutsk. This old-style Siberian village situated at the source of Angara River is famous for its trade history. The Museum of Lake Baikal (Limnological Museum) provides information about the origin and wild life of the lake.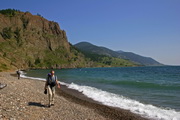 Bolshie Koty is a small village, located on the lakeside of Baikal shore 20 km northeast from Listvyanka. Surrounded by hills and picturesque rock cliffs this solitary village has its own life rhythm measured not by hours but seasons making you really relaxed of tight schedule, traffic and rush hours.
Bolshoe Goloustnoe is a former Buryat fisherman and logging settlement, where in 17th century there was a base for official crossing to the Eastern shore of Baikal. The name Goloustnoe means something like 'nude, barren river-mouth' and reflects the barren steppe around the marshy river delta. The village has 800 inhabitants.
The route is 52 km long. We provide an experienced guide, food, tents, sleeping bags, isomats, other camping outfit.
Itinerary and description:
Day 1: Trekking from settlement Listvyanka to Bolshie Kory village situated on Lake Baikal shore, 20 km. Gold used to be extracted from there about 40 years ago. Overnight in tent or Koty chalet
Day 2: Trekking from Bolshie Koty to Kadilniy cape, 15 km. Excursion to the cave wherein aboriginal people of the Iron Age once lived. Overnight in tents, f/b.
Day 3: Trekking to Bolshoe Goloustnoe village, 17 km. In the afternoon transfer by private car from B.Goloustnoe, 135 km to Irkutsk.