WINTER ONE DAY TRIP TO THE CIRCUMBAIKAL RAILROAD
---
Old local train: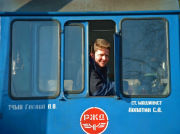 Tour starts 10th February - 10th April on FRI, SUN - for sure; and also on MON or TUE, THU
From 1 client to groups variable in size. Any age.
Siberian winter gives this unique opportunity. Because of ice walking or ice driving (in case of cold) crossing the channel Port Baikal- Listvyanka you can do it in one day. Usually Lake Baikal is frozen over
from mid January to the end of April with an average thickness of about 70cm.
The famous Circum Baikal Railroad going along the south-western shore of Lake Baikal is one of the most complicated railways in the world The total length of its 39 tunnels is 7 km. The whole road is 86 km long.
Description:
In the morning tourists take a local train to the south of Lake Baikal. It takes about 2.5 hours to arrive at "Black Valley" station from which tourists walk for 1 hour downhill the deep valley to the shore of Lake Baikal, where they spend some time on the beach or walk to the nearest tunnel and have lunch. In the afternoon they take the ORR local train, which has only two passenger carriages and one or two cargo wagons. The train goes very slowly, about 25-30 km/hour. With its long stops you travel for about 4 hours on this train. It runs along the Baikal shore, 5-20 meters from the Lake and through the tunnels. You can open the doors while the train is moving and take photos of Lake Baikal, ORR tunnels, bridges and railway stations. Late afternoon the train comes to Port Baikal. The tourists cross the channel from Port Baikal to Listvyanka walking on the ice!!! You'll get incredible feeling! Usually Lake Baikal is frozen over from mid January to early May. In this period it's the biggest skating rink with the ice thickness of a meter or more. The lake serves as a temporary road, forming a navigable land route between the settlements at its northern and southern ends. The safest period for ice walking either as for ice driving trip, especially in the southern part of Lake Baikal, is from the beginning of February to the end of March.
The ice walking takes 30min. In Listvyanka the car is waiting for the tourists to bring them back to Irkutsk.
Itinerary:
Car transfer HTL/Homestay to the railway station. 08:50 AM suburban Trans-Siberian train from Irkutsk to Lake Baikal (in the vicinity of small town Sludyanka).11:30 arriving at Black Valley, downhill walk to the Circum Baikal Old Railroad. Walking along the shore of the Lake, picnic lunch.
15:15 Old Railroad train departure.20:00 arriving at Port Baikal. Ice walking/driving across the Angara river's outlet from Port Baikal to Listvyanka. Transfer back to Irkutsk (1,5 hour) by private car.


The Circum-Baikal Railroad 100 years' anniversary