CROSS-COUNTRY SKIING IN SIBERIA FOREST


---
2 Days / 1 Night (3 Days/2 Nights)
From mid November till mid March.
Some years we've got not so much snow at the beginning of November because of global heating. Individuals only.
Two days/one night ski tour for those who likes to make a break in rushing around city centers, railway stations, museums etc. This trip will give you a proper chance to concentrate on yourself and nature in the middle of solemn Siberian winter forest, see the lifestyle of a small Russian village in the middle of nowhere. The settlement of about 30 houses is situated at the edge of immense forest 1.5 hour by local train from Irkutsk. Several nice ski pistes start here to get you to nice pine tree forest with a perfect view around, make you confused reading the ornament of animal's prints, lead to the solitude hunter's hut. One would hardly meet another person on his trip but the weekend, when the place gets busy with Irkutsk ski lovers. Description: In the morning of the first day tourists take a local train to Trudny stop.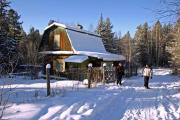 Accommodation in the larch logs cabin with traditional stove (House of 4x5 m, one room. Wooden Russian sauna. Guide sleeps in the nearby hut). Lunch, afternoon skiing. Client can choose the distance (from 3 to 40 km) and the level of the piste. In the evening sauna and dinner. Next morning another walk around. Afternoon trip back to Irkutsk. (Arrival to the city by 4.50 pm of by 9.00 pm.).
"Baikal-Complex" provides guide, skis and outfit, full board, all transfers and Russian sauna included.