BAIKAL SKIING MARATHON, 50 KM


---
Held on the first Sunday of March.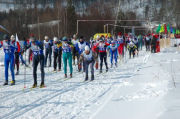 It is probably the most strenious and demanding classic style ski marathon of the "Russian Loppet". This annual competition is been held since 1976 for fans of cross-country skiing (the organizer is "AngarskStroyKomplex" and "Irkutsk Ski Club", semiprofessional skiers and addicted athlets participate). The piste goes through the taiga forest; it starts at one of the small stations of Trans-Siberian railway "Ogonki", which is situated at half way between Irkutsk to Baikal, 60 km from the city. The snow and air at this area are very clear and fresh.
Normally the temperature during this time is about minus -5 -14 C degrees. The race consists of 3 laps in the taiga forest, skiers run classic style. Participants may run only 1or 2 laps if they want. The beginning of the piste is 670 meter above see level. The highest spot is 805 meters above see level, lap's difference in altitude is about 60 m. The marathon starts at 11-30 am.
For beginners we recommend our tour Cross-Country Skiing in Siberian Forest, which is at the same area where the marathon takes place or to stay in one of the hotels in Irkutsk and have 1 day trip for skiing in the forest close to Irkutsk. Price of the tour with additional service will be sent at your request.