INTERNATIONAL LAKE BAIKAL ICE MARATHON
---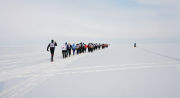 On March 1st, 2008 the annual INTERNATIONAL LAKE BAIKAL ICE MARATHON is held in the south part of lake Baikal. With average Spring day-time temperatures in the south of Lake Baikal (-5°C to -10°C ), plenty of alpine sunshine, breathtaking views of the mountain ranges and vast expense of glimmering snow covering the ice of Glorious Lake - the Baikal Ice Marathon can become your one-of-a-kind life time experience.

The Baikal Ice Marathon participants will run a distance of 42 km 195 m on the snow-covered ice of Lake Baikal crossing the lake from eastern shore to the western one. The marathon runners will have a chance to refresh themselves with hot drinks and fruit during the race. Those who will bow out of the competition will be taken to the finish in microbuses or air cushioned hovercrafts that will be in charge of providing the runners safety.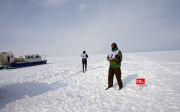 1-st Baikal Ice Running Mararthon was held last year within the 3rd Winteriada Nordic Games Festival with the participation of famous German runner Udo Mueller. 44-year-old Udo Mueller from Hanover, has been going in for marathon running from the age of 25. He participated in 140 marathon races in 30 countries of the world. The athlete clocked his best time, 2 hours 30 minutes, in 1985. The Baikal ice marathon is not the first in Mr. Meller's list. He participated in an analogous competition on the ice of the Yukon river in Canada. At Baikal Ice Marathon Udo's performance was 3 hrs 44 min. 25 seconds. He was 6-th on the finish. He said that during the first 20 km of Baikal marathon he had a good tempo, but later he slightly missed the original running track and ran around 5 km on nearly bare snow, which was really hard. "I would not say that the Baikal Marathon was an easy walk for me. It was a hard work, - said Udo - This was a special marathon. There're few places in the world where one can run the marathon on ice. It was more difficult for me this time than last year on Yukon in Canada. Here you run and can't figure out exactly how long still you have to run. I could already see the ships in Listvyanka, and they seemed to be very close, however I could not manage to see the end."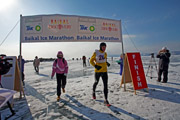 The International Lake Baikal Ice Marathon is organized by Baikal Discovery travel company. "BAIKALCOMPLEX" welcomes you to take part in the competition, or to support sportsmen. We are happy to help you with travel arrangements, visa support, transfers, budget accommodation in our hotel "Baikal Chalet" (we are the owner), race list registration, etc . Our company can also help you with transfer service and accommodation in Russian cities: Moscow, St. Peterburg, Vladivostok, arrange variety of sport and cultural tours to Siberia.