BACK-COUNTRY SKIING TOUR IN KHAMAR-DABAN MOUNTAINS


---
7 Days / 6 Nights From late November till late March.
Strenious.
From 1 up to 4 clients (the group size is limited by the hunter's lodge capacity).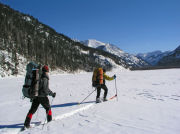 The best time is from February 25 to March 15. This route offers great opportunities for back-country skiing in one of the vast unexplored areas of Siberia. Downhill skiing is also great on different slopes for beginners and for experienced skiers. Lots of snow and sun, mountain air and thick forest make up the unforgettable atmosphere of Siberian winter. The snow layer is typically about 1.5 meters deep in this region. Magnificent lakes in the alpine zone and numerous waterfalls with crystal clear water flowing into small mountain rivers strike your imagination. These waterfalls become frozen in winter and create sparkling icefalls.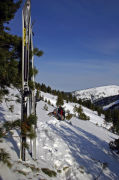 Though the Khamar Daban are not the highest mountains in the area (the highest summit is 2375 m), they are popular among local tourists who come there both in winter to ski and in summer to trek and climb. However, the ridges are totally uncivilized; many peaks are still unclimbed and unnamed. There are only a few treks leading further into the mountain chain. In winter, it is a professional hunting area. Local people mainly hunt for sable, its fur being among the most beautiful and expensive ones, for squirrel, musk deer, elk. It is also popular as a trekking and skiing destination.
Description: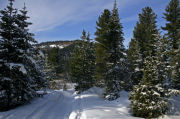 Our 5-days back-country skiing tour in the Khamar Daban Mountains starts from Vydrino, a small station 150 km from Irkutsk. Tourists ski up the Snezhnaya (Snow) River valley, one of the biggest rivers in Khamar-Daban. Overnight in a hunter's lodge. During the next two days, they ski up the Selenginka River, a left tributary of Sneznaya River, climb up the hills, cross two mountain Sable Lakes covered by ice. The Sable Lakes, 2.5 km long and 500 m wide, are located 650 m above sea level, which is 200 m higher than Lake Baikal. These picturesque Lakes are closely spaced in the taiga-forest zone. The Alpine zone is located higher than 1600 m. Summits of 1700-2200 m above sea level surround the Sable Lakes. Gentle slopes of the Khamar Daban Mountains at the southern termination of Lake Baikal are the natural borderline of the Mongolian territory and the Tunka Valley. Most of the summits are rounded bumps on barren ridges, linked by easy trekking passes Overnights in a cabins near these mountain lakes. Depending on the skiers' skills, they ski down one of the steeply dipping summits. Tourists come back to Vydrino down Sneznaya River.
Itinerary:
Day 1: Arrival in Irkutsk. Transfer to hotel/homestay. 3 hours guided city tour, one museum.
Day 2-5: Transfer by private car to Vydrino. Skiing Vydrino - Snezhnaya River - Selenginka River - Sable Lakes.
Day 6: Skiing to Vydrino and driving back to Irkutsk.
Day 7: Transfer to station/airport, departure from Irkutsk.