CROSS-COUNTRY SKIING SUPER BAIKAL MARATHON, 90 KM

---
One Day, held on the second Sunday of March.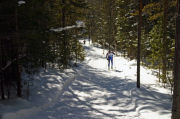 The Super Baikal Ski Marathon is been holding since 2000 as official ski competition, although ski fans run this piste for more then 25 years already. In spring days get longer and temperature is -4-10 oC, there are plenty of snow, all together it makes skiing conditions favorable. One March 8-th Russia celebrates the International Women's day, and sportsman devote the super race to their beloved. The piste starts from Sludyanka town which is situated at the South part of Baikal, at Trans-Siberian Railway (105 km from Irkutsk).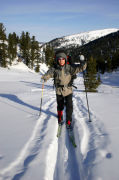 Path goes through Khamar-Daban mountains, along Sludyanka and Utulik rivers. The super marathon starts at 4-00 am; and the skiers run from Baikal shore (480 meters above sea level) up Sludyanka river about 28 km to the highest spot of the route (1950 meters above sea level, in alpine zone), the watershed between Sludyanka and Utulik rivers. Then the skiers run down along small stream "Spuskovaya"about 10 km to Utulik river and downstream towards Lake Baikal. This area is rather wild and during this super marathon you may see wild birds and animals (sable, musk deer, goats etc). Price of the Tour with additional service will be sent at your request.