Siberia has been always famous for its long and frosty winters. Winter is, after all, the most Russian of seasons, a time of fur coats, sleigh-rides and chilled vodka. Even in coldest months of December - January city life goes on, on the nice days people enjoy outdoor activities and winter sports. Most of the winter, it is about -15, -17 &degC during a day, which is OK to be out if you have proper clothes for subzero temperature. Usually the layer of snow out in the plains and forests is 50 cm to 1.5 meter, though in the mountains it may reach 2 - 3 meters.
The best time to come is from mid February till mid April, when the day temperature rise from -10 to +2 &degC, weather is sunny and calm. Days are fairly long, there is still a lot of snow for skiing, Baikal is frozen and a meter thick ice is incredible to walk or skate on.

Our most popular tours:

- BAIKAL WILD ICE GRAND MARATHON

- THE OLD RAIL ROAD TOUR

- WINTER JEEP TOUR TO OLKHON ISLAND

- HIKE TO BOLSHIE KOTY

- DOG SLEDDING & BAIKAL EXCURSION

- SKATING AT BAIKAL

- CROSS-COUNTRY SKIING IN SIBERIA FOREST
SUMMER TIME BAIKAL TOURS


---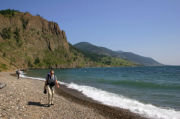 Recommended by Lonely Planet as reliable and budget-friendly tour operator, "BAIKALCOMPLEX" is the leading ecotravel outfitter in Irkutsk and at Lake Baikal. For more than 25 years we arrange successful nature journeys and eco-tours for enthusiasts form different countries. Our company designs authentic Siberian nature and culture explorations for inquisitive, active travelers who appreciate charming hostelry, gorgeous sceneries, and a company of superb local guides. Tours range from moderate and soft adventure to strenuous and extreme challenges. We can design trips based on tourist's budget, schedule, travel style and interests. All Outdoor programs are designed relying on our longtime experience and organized by company's highly professional English / German speaking guides-naturalists. Our sophisticated itineraries are focused on the unique culture, diversity, and stunning natural beauty of the region.
Baikal Adventure Tours include nature treks, hiking tours, jeeping, off-road mountain biking, sea canoeing, white water rafting, boat voyages at lake Baikal, horseback riding in Siberian mountains.
"Our most popular tours:

TREKKING ALONG THE BAIKAL'S SHORE

JEEP TOUR TO TUNKA VALLEY

JEEP TOUR TO OLKHON ISLAND

MOUNTAIN BIKING AT OLKHON

CANOEING AT BAIKAL

RAFTING TOUR ON IRKUT RIVER