SPARK OR KICKSLED AT BAIKAL

---
ACTIVE HOLIDAYS AT LAKE BAIKAL.

Best since 10th of February till middle March. Easy / for everyone.

Sparkstory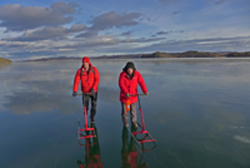 The story of the "Sparkstötting" or just spark stared centuries ago in Sweden, the land of million lakes. Somebody put the small sledge on the skis to travel and transport goods on the ice of the frozen lakes and gulfs. "Spark" means "kick" and "Stöt" means "push". The word "stötting" or "stutting" was also used for small sleds used for hauling wood. About one hundred years ago kicksled has got modern design, the long steel blades were developed and little was changed in the spark since then. At first they were built by the local village blacksmiths or carpenters, but then larger factories began to produce them.
Sparks are used extensively in small towns and country roads in Norway, Sweden and Finland, where sidestreets and sidewalks are not sanded or salted in winter. Depending on the user, a spark can serve as a bicycle, wheelbarrow, grocery cart or baby stroller. It has been called "the most environmentally friendly vehicle". In the 20th century and till nowadays spark racing became a popular sport in Scandinavia, with a longest race distance of 100km and highest speed up to 40 km/h.

Kick Lake Baikal
Spark is very new sport and leisure at Baikal.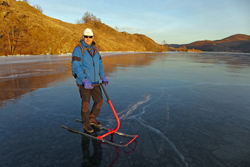 Yet a great advantage of the destination is a huge crystal surface to explore by kicksled for 2-3 months every year. And unlike skates where skills and experience are the keys to success, everyone can try the spark. No need special boots or gear, long years of training and falls, it is open to everyone. And if it doesn't feel good, spark is so easy to push by when wander around. You can rent sparks in our chalet in Listvyanka and try it just outside the settlement.
If you want a deeper experience of the lake and kicksleding we can take you to a smaller towns, such as Bolshoe Goloustnoe for 2 days exiting adventure in a non touristic destination. Overnight in a guesthouse, all meals, experienced English / German speaking guide, unique nature and new activity make the recreation unbelievable.
NOTE: Distance and locations are flexible and may be changed due to the weather conditions and your skills.
Sparkstötting