Trans-Siberian Railway Tour
Vladivostok -Irkutsk -Moscow (St. Petersburg) 9259 km


---
Important information: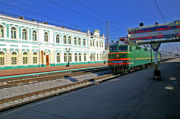 1) Daily train from Vladivostok to Irkutsk leaves at 20:11 local time and arrive in Irkutsk at 16:47 local time. It takes 71.5 hours, Irkutsk has 2 hours different with Vladivostok.
2) Train Nr 9 "Irkutsk-Moscow" from Irkutsk leaves on the even dates at 16:25 local time and goes to Moscow 77.5 hours, distance is 5193 km. It arrives in Moscow at 16:42. Resume: You are welcomed to change the program and number of days in each city, but essential is to leave Irkutsk on the even date. You may also make a stopover in Khabarovsk, Ulan-Ude, Krasnoyarsk, Novosibirsk, Tomsk, Ekaterinburg, Kazan or other city.
Itinerary:
Day 1: Arrive in Vladivostok by a plane / train
Transfer from Airport to Vladivostok by private car, about 1 hour
Accommodation Hotel/Homestay 2 nights b/b
Free time
Day 2: Breakfast
Free time or city tour / OPTIONAL
Day 3: Breakfast
Free time or excursion on old military forts / OPTIONAL
In the evening Transfer Hotel/Homestay - Station / OPTIONAL
Train Nr 2/8 leaves Vladivostok daily at 20:15 local time
Day 4: In train. In the morning at 09:10 am local time, stop at Khabarovsk, 25 min
Day 5: In train.
Day 6: In train. In the morning at 09:42 am local time, stop at Ulan-Ude, 25 min
Arrive in Irkutsk at 16:47 local time
Transfer Station - Listvyanka 70 km, at Baikal shore, about 1.5 hours
Accommodation: Hotel / Chalet / Homestay 2 nights b/b
Day 7: Free time or special programs (Please see note I below)
Full day lake Baikal excursion including Baikal museum, St. Nicolas church, etc / OPTIONAL
Day 8: About 11:30 Transfer Listvyanka - Irkutsk
Accommodation: Hotel/Homestay, 1 Nt, b/b
Free time or city tour with one museum / OPTIONAL
Day 9: (The EVEN date): Free time
Hotel checkout time is 12.00.
Transfer Hotel - Station / OPTIONAL
Train Nr 9 Irkutsk - Moscow at 16:25 local time
Day 10: In train. Stop in city Krasnoyarsk at 10:20 am local, 23 min
Stop in city Novosibirsk at 21:58 local, 28 min
Day 11: In train Stop in city Omsk - mid-night.
Stop in city Tumen - at 13:12 local time, 20 min,
Stop in city Ekaterinburg at 17:00, 50 min !!
Day 12: Arrive in Moscow at 16:42
Transfer: Station - Hotel/Homestay
Accommodation: Hotel/Homestay 2 nights b/b
Day 13: Free time or City tour / OPTIONAL
Day 14: Free time
Transfer Hotel/Homestay - Airport / OPTIONAL
End of Service


St. Petersburg extension !
Day 14: Free time
In the late evening Transfer Hotel/Homestay - Leningradskij Railway Station / OPTIONAL
Night train from Moscow - St. Petersburg, 8.5-9 hours, distance 650 km
Day 15: Arrive in St. Petersburg in the early morning
Transfer Station - Hotel/Homestay
Accommodation: Hotel/Homestay 1 night b/b
Free time or city tour / OPTIONAL
Day 16: Free time
Transfer Hotel/Homestay - Airport / OPTIONAL
End of Service


NOTE I: Additional options at Baikal in Listvyanka settlement:

WINTER TIME:
1) Dog sledding in the forest or on lake Baikal
2) Rent hovercraft to drive on frozen lake (speed about 60 km/h),
3) Down hill ski
4) Skating on Baikal ice (from the end of February till the end of March)
5) Cross country ski.
6) Ice diving (for certified divers )

SUMMER TIME:
1) Adventure Tour
2) Hiking in taiga forest
3) Scuba Diving
4) Rent small private boat