Trans-Siberian Tour
Moscow - Irkutsk - Vladivostok 9259 km
---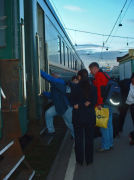 Important information:
1) Train Nr 10 Moscow to Irkutsk departs on the odd dates, late in the evening. It takes about 78 hours, distance 5192 km.
2) Train Nr 2/8 from Irkutsk to Vladivostok departs daily at 07.38 am local time and goes 72 hours, 4105 km
Resume: You are welcomed to change the program and number of days, essential is to leave Moscow on the odd date. You may also make a stopover in Kazan, Ekaterinburg, Tomsk, Novosibirsk, Krasnoyarsk, Ulan-Ude, Khabarovsk or other city.
Itinerary:
Day 1: (Odd date ): Arrive in Moscow by plane (as usual in the afternoon) / or by train
Transfer to Hotel/Homestay, / OPTIONAL
Accommodation Hotel / Homestay 2 nights, b/b
Day 2: Free time, or city tour on request / OPTIONAL
Day 3: (Odd date only !!!!): Free time. Hotel check out at 11:59 am
Transfer Hotel / Homestay - Jaroslavky Train Station / OPTIONAL
Train Nr 10 Moscow - Irkutsk, leaves at 23:29.
Day 4: In the train
Day 5: In the train
Day 6: In the train
Day 7: Arrive in Irkutsk 09:13 in the morning local time
Transfer Station - Listvyanka settlement, located on Baikal shore, 70 km from Irkutsk
Accommodation: Hotel / Chalet / Homestay 2 Nights b/b
Full day (walking or car) sightseeing in Listvyanka including Baikal museum with
sweet water aquarium, where you can see Baikal seals & fish, St. Nicolas Church, view point etc.
Day 8: Free time or special programs (Please see note I below)
Day 9: Transfer Listvyanka - Irkutsk (midday)
Accommodation in Hotel / Homestay 1 Nt b/b
Free time or city tour (walking or car 3 hours, one museum) / OPTIONAL
Day 10: Breakfast
Transfer Hotel - Station / OPTIONAL
Train Nr 2/8 (daily) at 07.38 am local time
Day 11: In the train
Day 12: In the train
Day 13: Arrive in Vladivostok at 08.24 am
Transfer Station -Hotel / Homestay / OPTIONAL
Accommodation Hotel/Homestay 2 nights b/b
Free time or city tour / OPTIONAL
Day 14: Breakfast
Free time or excursion on old military forts / OPTIONAL
Day 15: Breakfast
Free time. Check out from Hotel 12.00
Transfer Hotel - Station / OPTIONAL
End of Service

NOTE I: Additional options at Baikal in Listvyanka settlement:

WINTER TIME:
1) Dog sledding in the forest or on lake Baikal
2) Rent hovercraft to drive on frozen lake (speed about 60 km/h),
3) Down hill ski
4) Skating on Baikal ice (from the end of February till the end of March)
5) Cross country ski.
6) Ice diving (for certified divers )

SUMMER TIME:
1) Adventure Tour
2) Hiking in taiga forest
3) Scuba Diving
4) Rent small private boat